NETLease Corporate ETF (NETL): Play The E-Commerce Boom Via Real Estate
5 min read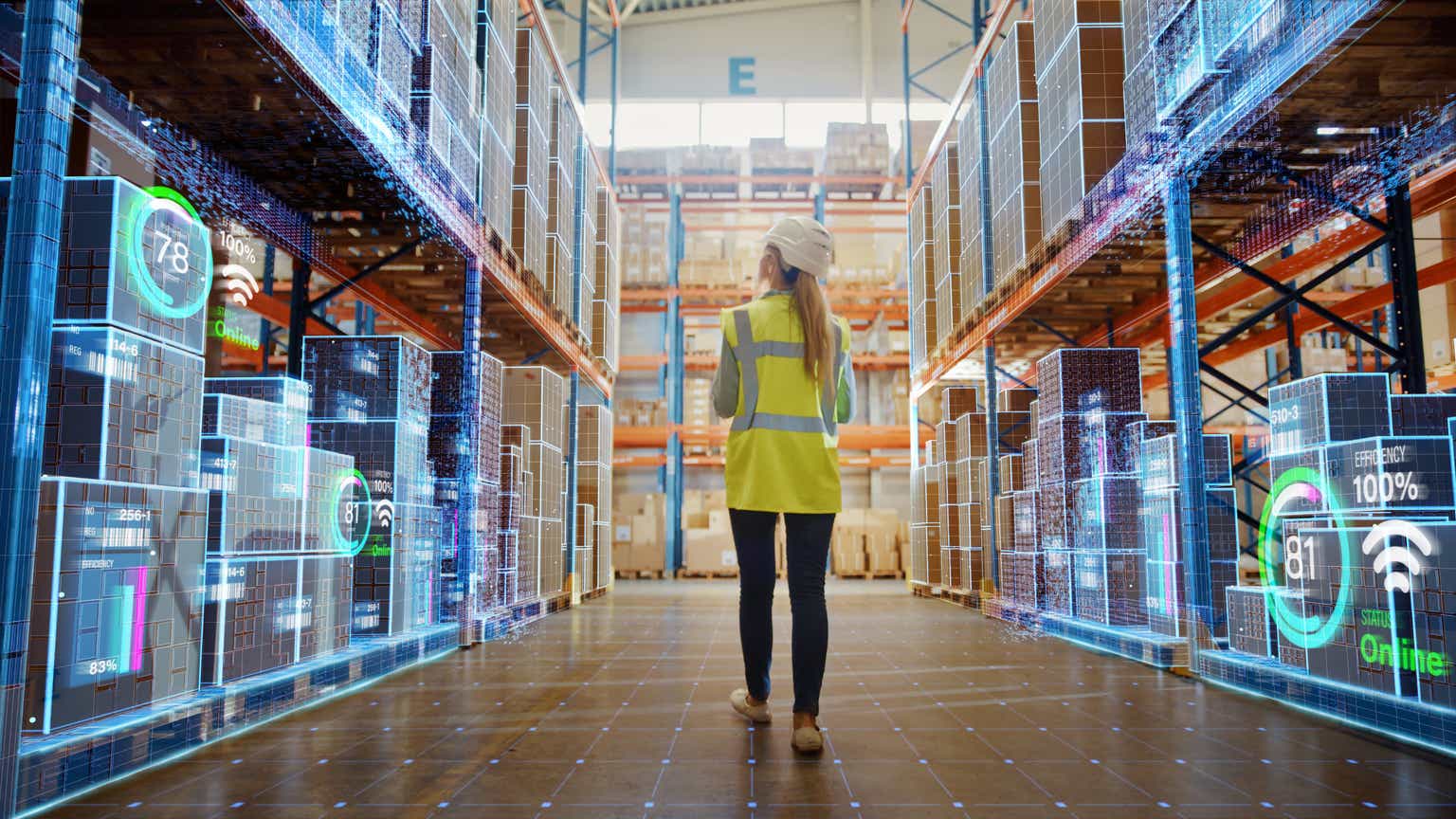 Introduction
I like to play mega-trends in non-obvious, second-order effect ways as experience has taught me that they tend to lead to more inefficient opportunities in the markets. The growth of e-commerce is one example of a mega-trend. I identify the NetLease Corporate Real Estate ETF (NYSEARCA:NETL) as one option to play this trend.
Warehouse supply constraints are leading to favorable pricing and low-vacancy dynamics for NETL's industrial tenants, which has quickly grown to become its largest tenant exposure. On the other hand, in retail, which makes up NETL's second-largest tenant segment, the rent environment remains tepid due to a more balanced market. I adopt a hold as I wait for both these engines to fire along with technical triggers.
NETLease ETF Composition
Sector Mix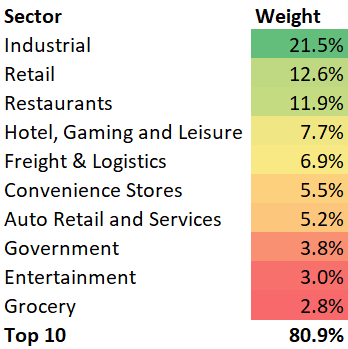 The industrial, retail and restaurant sectors make up 46.1% of the overall exposure. Industrial tenants lease space for storage warehouses in logistical operations. In retail, leases include customer-facing stores and outlets, as does that of the entertainment sector.
Industrial has the largest weight with 21.5%, making its fundamental drivers important to analyze. Considering that the entire ETF has only 22 holdings, I believe the top 5 sector weight of 60.7% is well diversified.
States Mix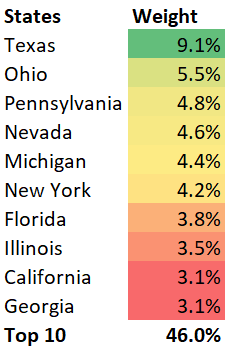 It is unsurprising to see Texas top the list with an out-sized weight of 9.1%. Texas ranks 2nd in manufacturing-heavy states in the US, with about 1.2 million manufacturing jobs and 20,000 manufacturing companies. Although, considering that California ranks first in the manufacturing-heavy states list, I am a little surprised by its lower position in the states mix.
Top 10 Holdings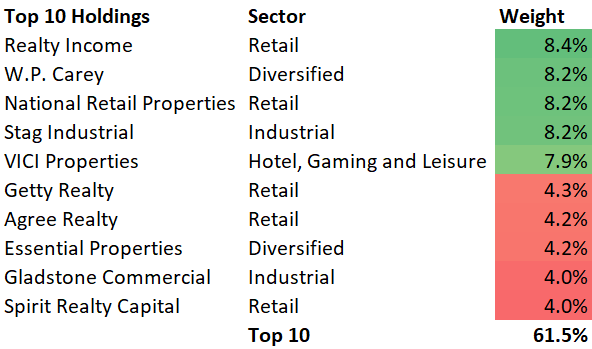 The top 10 holdings include Realty Income (O), W.P. Carey (WPC), National Retail Properties (NNN), Stag Industrial (STAG), VICI Properties (VICI), Getty Realty (GTY), Agree Realty (ADC), Essential Properties (EPRT), Gladstone Commercial (GOOD) and Spirit Realty Capital (SRC).
I have never seen such a mix split before. NETL curiously has roughly evenly weighted top 5 holdings and roughly evenly weighted top 6-10 holdings. Within the top 10 holdings, retail makes up 47% of the overall mix, suggesting that industrial weights may be held across a greater number of REITs outside the top 10.
Thesis
My view on NETL is composed of 3 parts:
Rising e-commerce sales is a mega-trend tailwind
Shortage of space boosts industrial space demand
Retail rent appreciation is yet to kick off
Rising e-commerce sales is a mega-trend tailwind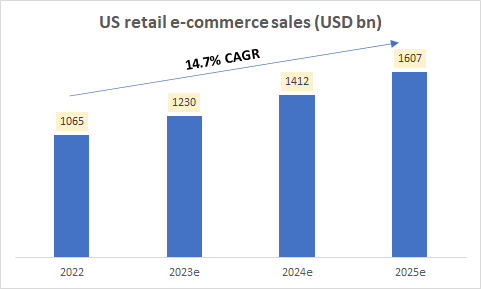 US retail e-commerce sales are expected to grow rapidly at a 14.7% CAGR over the next 3 years. Importantly, most of this growth is driven by volumes. These higher volumes imply needs for capacity in the supply chain such as retail stores and industrial warehouses; favorable long-term tailwinds for NETL given its combined 34.1% exposure to industrial and retail tenants.
Shortage of space boosts industrial space demand
Supply constraints in industrial space is leading to record low vacancy rates of under 4% (vs double-digit figures in normal, pre-pandemic times before the e-commerce boom) and sky-high YoY rent growth of 17.6%. As Kris Bjorson, International Director of Industrial Brokerage at JLL noted:
I've been working in industrial real estate for 27 years, and I've never seen it this intense. It's a really unprecedented time for the U.S. industrial market.
With 21.5% exposure to industrial tenants, this is beneficial for NETL. I anticipate healthy rent growth and continued low vacancy rates in this segment going forward. Note that NETL already has a very high occupancy rate of 99.2%.
Retail rent appreciation is yet to kick off
In Q4 CY22, industry data from Moody's Commercial Real Estate Analytics shows tepid 0.1% growth in US retail's asking rents, along with double-digit vacancy rates: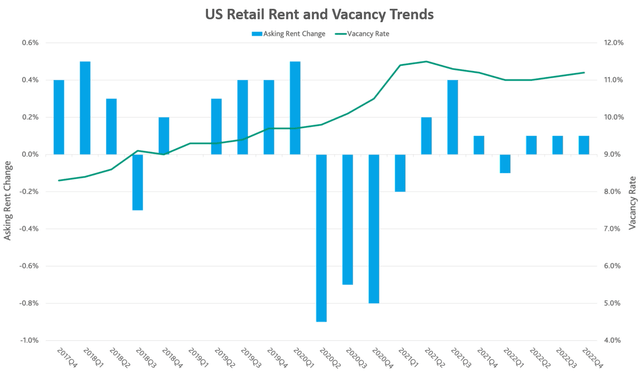 The following table puts the slow rent growth in retail in stark perspective: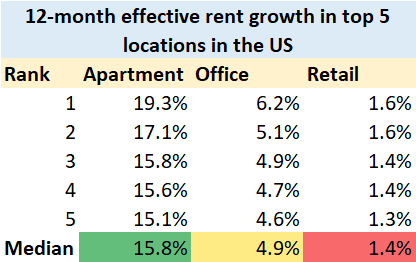 The reason for the slow growth is a relative balance between supply and demand in the retail segment. This represents an engine that is yet to rev up and start for NETL. When it does, coupled with the favorable economic environment in the industrial sector, NETL would become incrementally more attractive.
Assessment so far
The assessment of fundamental drivers of NETL has been mixed, but leaning towards a bullish bias due to the higher exposure to industrial tenants. It is in these instances that the technicals can guide on prudent decision making:
Technical Analysis
If this is your first time reading a Hunting Alpha article using technical analysis, you may want to read this post, which explains how and why I read the charts the way I do, utilizing the principles of Flow, Location, and Trap.
Note that my charts adjust for dividends, meaning they represent total shareholder returns not just capital returns.
Read of Relative Money Flow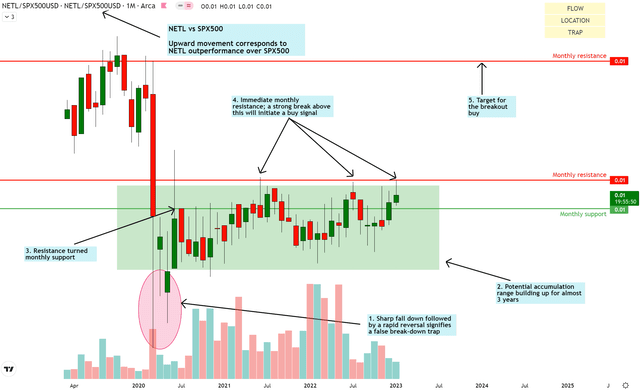 A lot of elements are lining up for the relative pair of NETL vs S&P500 (SPY) (SPX). I am waiting for a strong break above the immediate monthly resistance to initiate the buys.
Read of Absolute Money Flow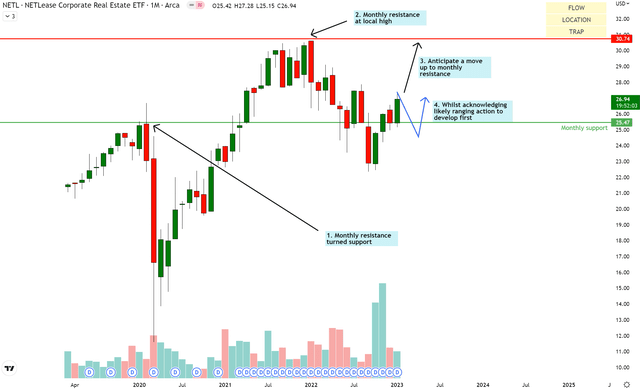 I see a more clear read indicative absolute returns on the absolute chart of NETL. However, I am cognizant of the likely possibility that prices may range a while around the monthly support at $25.47.
Takeaway
I think NETL is a great, non-obvious way to play mega-trends such as e-commerce growth. I anticipate the shortage in warehouse space to continue leading to low vacancies and high rents for industrial tenants in NETL's portfolio. As the technicals are yet to print a clear buy trigger on a relative to the S&P500 basis, I rate this a 'hold'. I suspect that a shift in the demand-supply dynamics in the US retail lease market leading to a rise in retail rents and drop in vacancies would be a key fundamental catalyst to coincide with bullish technicals.
Editor's Note: This article discusses one or more securities that do not trade on a major U.S. exchange. Please be aware of the risks associated with these stocks.
https://seekingalpha.com/article/4573996-netl-play-the-e-commerce-boom-via-real-estate