Four more GOP Reps. under scrutiny for potential stock trading violations
3 min read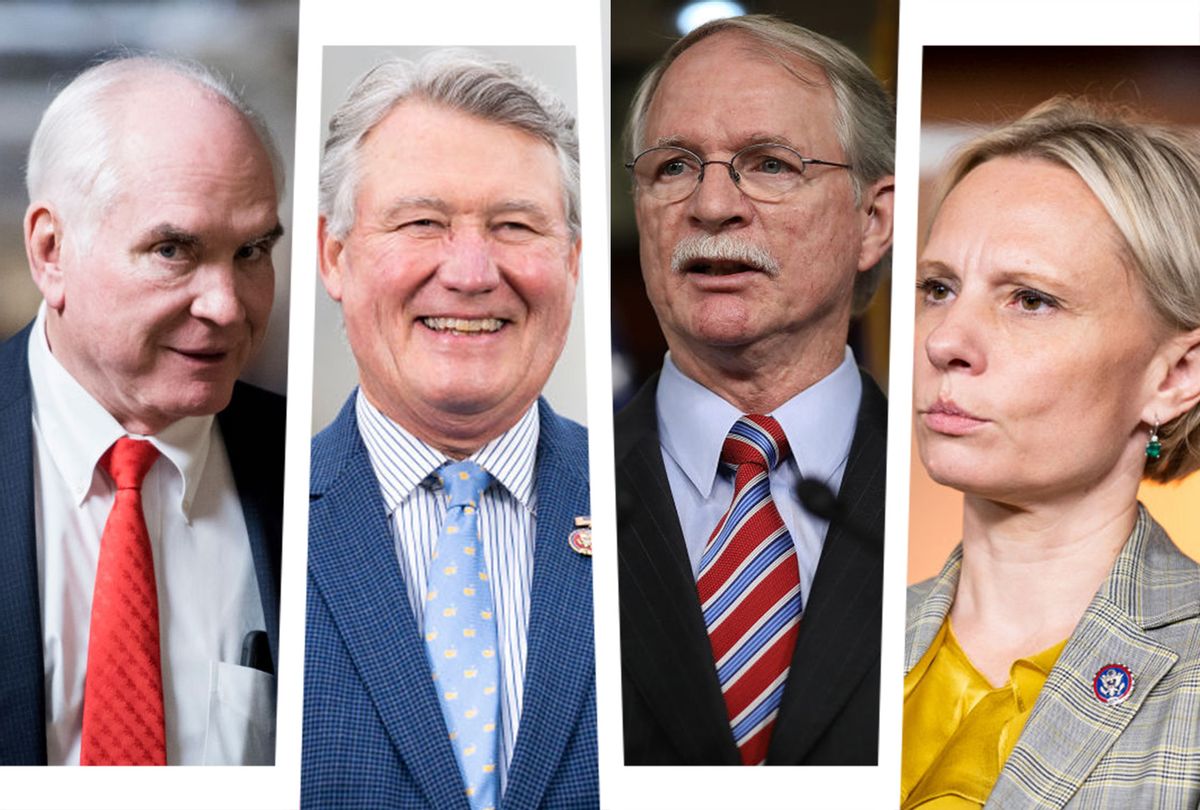 After a year full of headlines about Congressional scrutiny over members' stock trading practices, it appears four more GOP representatives may have run afoul of laws meant to prevent insider trading on Capitol Hill — in addition to a fifth Republican who has already seen scrutiny for the same trading activity earlier this year.
According to an analysis of financial disclosure documents compiled by Insider, the four members of Congress — Reps. John Rutherford of Florida, Rick Allen of Georgia, Mike Kelly of Pennsylvania and Victoria Spartz or Indiana — all failed to file paperwork for stock trades within the 45-day federal deadline required under the Stop Trading on Congressional Knowledge (STOCK) Act of 2012.
In addition, Rep. Blake Moore of Utah missed the deadline by several days on at least three trades — two involving the electric car company Tesla and another involving Alibaba, the Chinese e-commerce giant — the second stock-trading scandal this year involving the freshman Congressman. 
The transactions Allen failed to report were by far the largest, worth as much as $200,000 in all. During its analysis Insider identified at least seven stock holdings the four-term Georgia representative listed in 2019 but disappeared on his 2020 disclosures — despite the fact that any sales would have to be disclosed. 
Up to $65,000 in Walmart and Home Depot stock were also listed on Allen's 2020 disclosures, but there was no record of the corresponding purchases at any point in his Congressionals tenure.
---
Want a daily wrap-up of all the news and commentary Salon has to offer? Subscribe to our morning newsletter, Crash Course.
---
Rutherford also missed the mandatory reporting deadline on at least five trades made by her husband worth up to $75,000, while Spartz failed to disclose the purchase of up to $50,000 in Simon Property Group, Inc., a commercial real estate firm. 
"This transaction was made by Rep. Spartz's husband's IRA and reported within 45 days of the transaction, as Mr. Spartz was informed to do," Spartz's spokesperson Micah Bock told Insider. "Based on our review of the code, we've inquired with the nonpartisan House Ethics Committee to clarify the definition of 'notification' to eliminate any ambiguity."
Rutherford's spokesperson, Alex Lanfranconi, also told Insider that the Congressman had rectified the situation and would not be facing a fine for the situation.
"Any late periodic transaction reports have been submitted in full and accepted by the House, without fine," Lanfranconi said. "Rep. Rutherford is in regular contact with the House Ethics Committee to confirm all disclosure requirements are met in full." 
Kelly, for his part, reported late one purchase made by his wife over the summer, worth up to $15,000 in Beauty Health Company, which Insider notes is known for a popular skin-care treatment. 
These stock-trading issues are one of the rare points of synergy this year in a deeply divided Washintgon, with at least 34 Congresspeople — in both parties and both chambers — identified by news organizations as potentially violating the STOCK Act. 
These include Sen. Tommy Tuberville and Reps. Pat Fallon and Blake Moore, who Salon reported earlier this year had failed to disclose dozens of trades worth up to $22 million.
Salon also discovered in July that Fallon had dumped $250,000 worth of Microsoft stock just weeks before the company's high-profile cloud computing deal with the Pentagon, valued at up to $10 billion, was abruptly cancelled. He sits on the House Armed Services Committee's brand new Subcommittee on Cyber, Innovative Technologies, and Information Systems, which has oversight over the deal in question.
"When members of Congress trade individual stocks and fail to disclose those trades, they break the law and diminish the public's trust in government," the nonpartisan Campaign Legal Center wrote in ethics complaints against the three lawmakers. 
Still, fines for stock trading misconduct are incredibly low — often as little as $200 — and complaints are rarely forwarded to the Justice Department or the Securities and Exchange Commission for criminal investigation. 
"The recent prevalence of STOCK Act violations in the House shows that merely the threat of a fine is not deterring members of Congress from breaking the law; real accountability is necessary," the CLC added in its complaints.
https://www.salon.com/2021/09/29/four-more-reps-under-scrutiny-for-potential-stock-trading-violations/